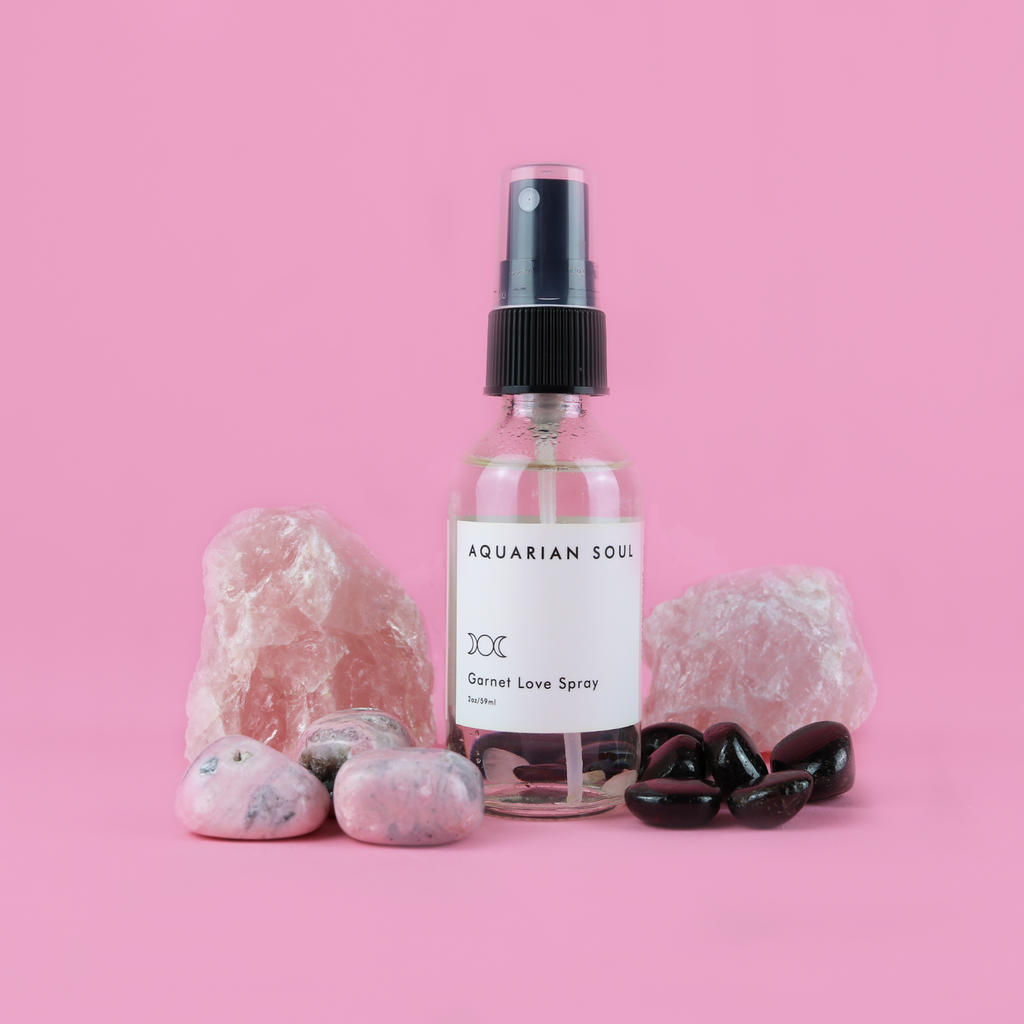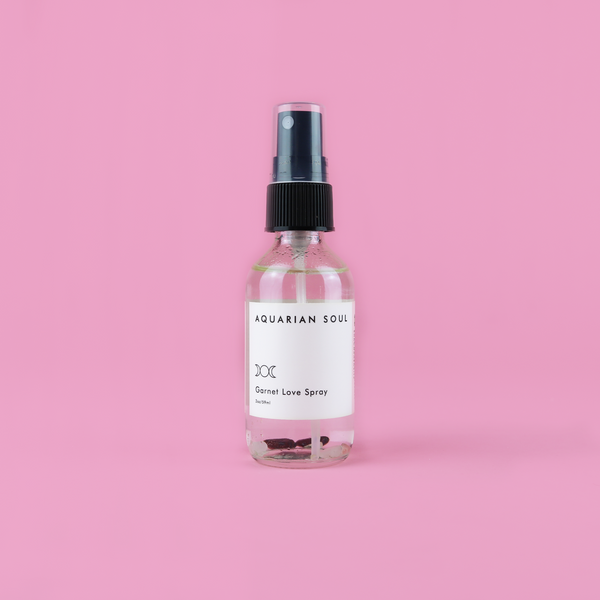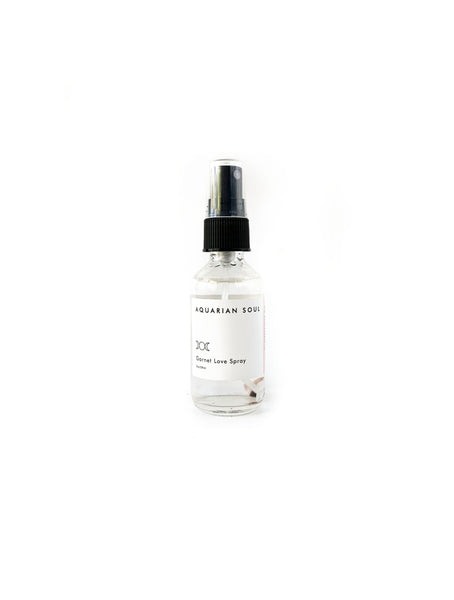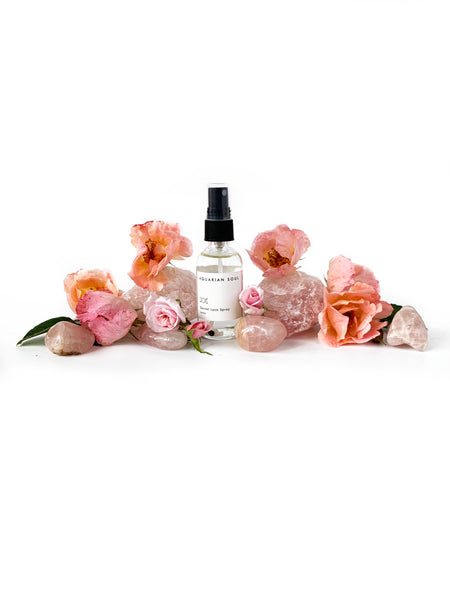 Garnet Love Spray
Formulated with a blend of aromatherapy, crystal healing and flower essences. This spray is a powerful energetic essence that heals on all levels. 

Garnet Love Spray is meant to open your heart chakra to allow love to enter into your life. Whether you are looking to attract a partner, work on self love, or strengthen current relationships in your life, use this spray to surround yourself with love. You can use this to mist your self or your space to help cultivate love. Made with rose quartz, garnet and rhodochrosite. Three of the best stones for gentle healing of past traumas, self esteem, peace, compassion and unconditional love.
Directions 
Mist yourself or your space to attract love, whether from a partner or to help cultivate self love from within. 
The Crystals 

Rose Quartz
Is the stone of unconditional love and romance. It is the most important stone for the heart chakra and the heart. Opens you up to all kinds of beauty. Not only does it promote love of others but love of the self. It has a gentle but powerful feminine energy that helps release trauma while being fully supported and nurtured. It symbolizes peace, compassion, and healing. With healing, rose quartz allows you to learn to accept love so that you might be deeply fulfilled and content within yourself.
Garnet 
Brings serenity and passion where it is needed. It inspires love and devotion. It balances sex drive and stimulates the rise of kundalini energy and aids with sexual potency. Garnet activates other crystals and amplifies their effect.  It opens up the heart and bestows self-confidence. It re-energizes and purifies the blood and heart. Garnet is a very powerful, potent stone that stimulates intense feelings. This a stone of passion. 
Rhodochrosite 
Represents selfless love and compassion. An excellent stone for the heart and relationships. Improves self-worth and soothes emotional stress. Like rose quartz, rhodochrosite is extremely soothing, comforting and nurturing. It represents joy and healing and allows you to fully open yourself to reach your true potential. It is a great healer for childhood trauma and emotional pain. It helps you to resolve old issues, so that you can feel joy, happiness and fulfillment. It gives you a sense of personal power, so that you can move forward confidently to find love which will help you fulfill your purpose in life.
The Key Ingredients
Wild Rose
Roses are the epitome of love in the world of flowers. They have been used since the times of the Ancient Greeks and Ancient Egyptians to symbolize love and beauty. Wild rose is especially helpful for those that have gone through separation or loss. It helps you cope with the healing process of grief. You might feel depleted of your vital life energy, feel exhausted and fatigued, and wild rose helps support you during these times. It soothes heartbreak, or feelings of being disconnected with your physical body. It brings back joy and helps us realize the true meaning of life is love. 
Pink Yarrow 
Pink yarrow helps us to be compassionate. A deep, and pure compassion that does not rely on being attached or expect anything in return. Often times in relationships there can become a codependence that is not healthy for either person. You can have the sensation of almost melding with the others aura and you feel a sense of confusion as to where you begin and the other ends. Pink yarrow helps you establish healthy boundaries, so that you can radiate love, without absorbing. It is a compassionate giving of love without expectations. It puts you in touch with spiritual love that seeks nothing but to share love. 
Evening Primrose 

Evening primrose helps us to open up emotionally so that we can form deep, committed relationships. Many times people experience trauma in childhood that blocks their heart center. You are unable to truly open yourself up to a person and so you appear distant, cold and closed off. There might be an unconscious feeling of not belonging or being unwanted. This makes you guarded and avoidant to forming deep emotional bonds. Evening primrose helps connect your conscious and subconscious mind, your physical body and the ethereal to activate the emotions. There is a kind of rebirth within your soul that helps nourish you with feelings of being safe, secure and loved. When you feel nurtured and safe you can open up more fully to all the possibilities love can offer you and also what you can offer to others. 
Ingredients (2 oz bottle)
Spring water infused with Rosa californica (wild rose)*, (Achillea millefolium (pink yarrow)*, Oenothera biennis (evening primrose)*, Lavandula angustifolia (lavender) essential oil*, Citrus bergamia (bergamot) essential oil*, pelargonium graveolens (geranium rose) essential oil*, Citrus aurantium (neroli) essential oil*, Garnet, Rose quartz, Rhodochrosite (*organic) 
---