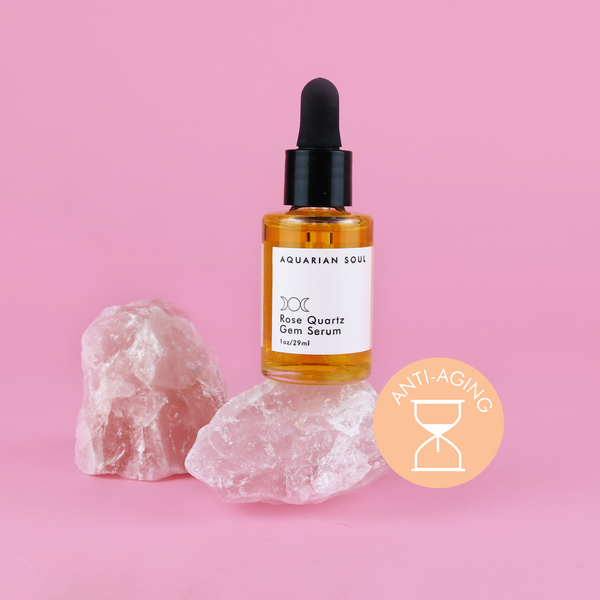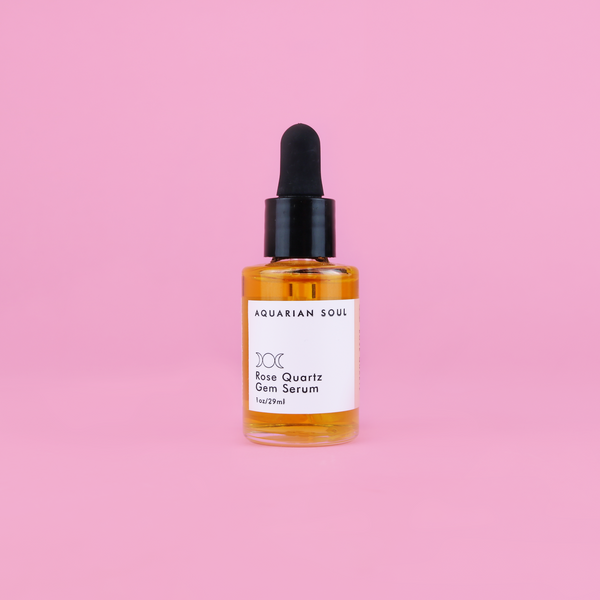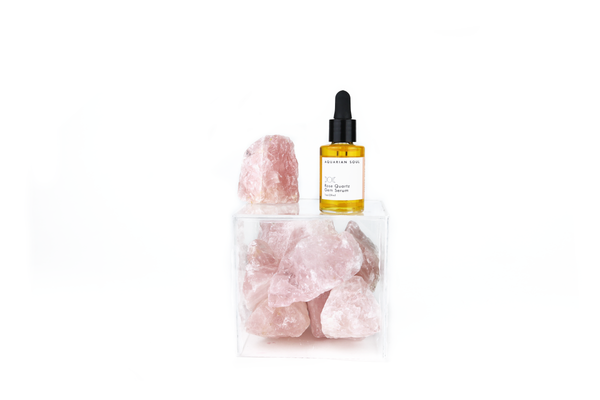 Rose Quartz Gem Serum
This serum is anti-aging and revitalizing to the skin. It works to improve the elasticity of the skin as well as smooth and plump skin to reduce fine lines and wrinkles. This contains many nourishing and nutritious oils for the skin. Precious oils of rosehip seed and sea buckthorn oil give this oil its beautiful pink appearance. Jojoba oil is the closest thing to our own natural oils so it is easily absorbed into the skin so you dont feel greasy at all. This serum is great for any skin type but is especially formulated for those with sensitive skin or those with anti-aging concerns. 
Directions
You can use a few drops all over after normal cleansing as a moisturizer or as spot treatment on dry skin. Start with 4-5 drops and increase if more is needed. Use the dropper to dispense the serum and cover entire face focusing on dry areas or areas where wrinkles are a concern. Gently pat the serum into the face. Let sit over night or as an intense daytime treatment. 
The Crystals
Rose Quartz is the stone of unconditional love and romance. It is the most important stone for the heart chakra and the heart. Opens you up to all kinds of beauty. Not only does it promote love of others but love of the self. In skincare it promotes glowing skin while helping retain moisture. 
The Key Ingredients
Rosehip Seed Oil 
One of the top hydrating oils used in skincare. It has many essential fatty acids that are easily absorbed into the skin. It has anti-aging and anti-wrinkle properties which makes this great for skin at any age to protect and lessen the appearance of fine lines. Rosehip seed oil is also amazing for dry, dehydrated skin.
Evening Primrose Oil 
Contains linoleic acid and gamma linoleic acids (GLA) which are fatty acids that help improve the texture of the skin. They also contain anti-aging properties which make the skin appear younger and also reduces redness and calms any inflammation. This makes evening primrose great for sensitive skin and those who suffer with acne prone skin. It is also wonderful for eczema. 
Jojoba Oil
Jojoba oil has properties that are very similar to our own skin's oils so it absorbs really well. Applying jojoba onto your face is like tricking your skin into thinking it is already producing enough oil so it is good for acne sufferers as well as normal, dry or combination skin.
Pomegranate Seed Oil
Contains punicic acid which is an omega 5 fatty acid. It helps protect your skin from sun damage as well as prevent the appearance of wrinkles. It is both anti inflammatory and an antioxidant. It penetrates deep into the layers of skin helping your skin stay hydrated longer.
Sea Buckthorn Oil 
Is a beautiful orange pink color oil coming from the bright orange berries of the sea buckthorn shrub aka seaberries. They are very high in antioxidants and anti inflammatory fatty acids. This powerhouse oil is great for fighting 3 major skin conditions, acne, wrinkles and dry skin. It is great for any skin type! 
Ingredients (1 oz bottle)
Rosa canina (rosehip seed) oil*, Helianthus annus (sunflower) oil*,  Simmondsia chinensis (jojoba oil)*, Oenothera biennis (evening primrose) oil*, Punica granatum (pomegranate seed) oil*, Hippiphae rhamnoides (sea buckthorn) oil*, Rosa centifolia (red rose) extract, Vitamin E (mixed tocopherols),  Pelargonium graveolens (geranium rose) essential oil*, Cymbopogon Martinii (palmarosa) essential oil*, Rose quartz (*organic)
---