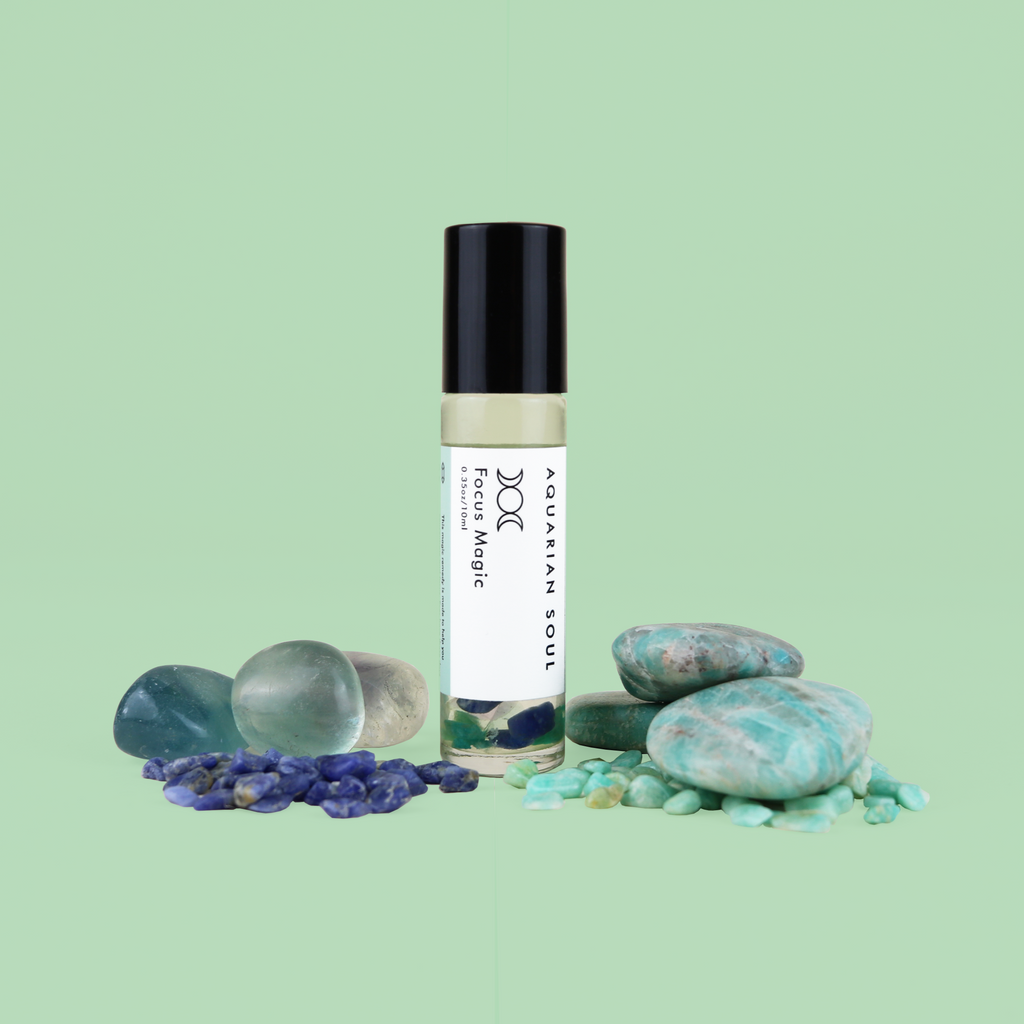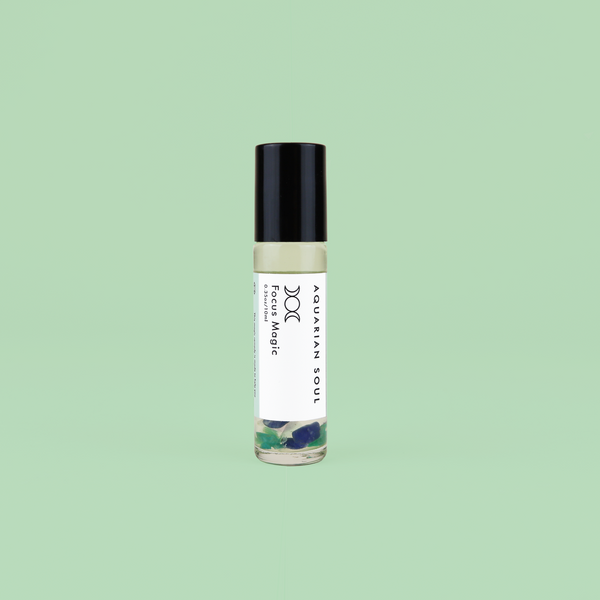 Focus Magic
Focus Magic is specially formulated with crystals and essential oils the help you clear your mind and focus on the task at hand. Many times we are working hard to find an answer but are bogged down with too many thoughts. The oils in this blend help you focus and clear that brain fog. We created this blend for anyone who feels frustrated when working on an important project or feels drained and needs a boost to keep your mind focused. You can roll this on to wrists, pulse points or inhale this directly from the container.
Directions
Roll on to your wrists to smell throughout the day or inhale directly from the bottle for faster relief. 
The Crystals
Quartz 
is the most powerful healing and energy amplifier on the planet. It absorbs, stores, releases and regulates energy and is useful for unblocking it. It works at a vibrational level attuned to the specific energy requirements of the person needing healing or undertaking spiritual work. Quartz is the master healer and can be used for any condition. It stimulates the immune system and brings the body back into balance.
Amazonite 
is an extremely calming stone and soothing stone. It calms the brain and nervous system and aligns the physical body with the etheric. Soothes emotional trauma, alleviating worry and fear. Excellent for relieving anxiety and an over thinking mind. Perfect stone to use for unwinding and relaxing.
Fluorite 
draws of negative energies and stress of all kinds. It cleanses, purifies, and dispels and reorganizes anything within the body that is not in perfect order. It has a stabilizing effect assisting with balance and coordination. It helps you maintain focus, concentration and balance with all things in your life.
Sodalite
Helps clear your mind to reach a conclusive thought. It helps you delve deep into your mind to come to logical conclusions. It opens up your mind and clears it of any lingering thoughts to bring about intuition, analysis and rational thought. It helps you gain perspective on your life, dispels confusion and allows you to receive new information. This in turn helps you get out of old patterns that no longer serve you and to think deeply on what you really want out of life. 
Ingredients (.35 oz bottle)
Prunis dulcis (sweet almond) oil*, Rosmarinus officinalis (rosemary) essential oil*, Metha peperita (peppermint) essential oil*, Citrus limon (lemon) essential oil*, Clear quartz, fluorite, amazonite, sodalite (*organic) 
---