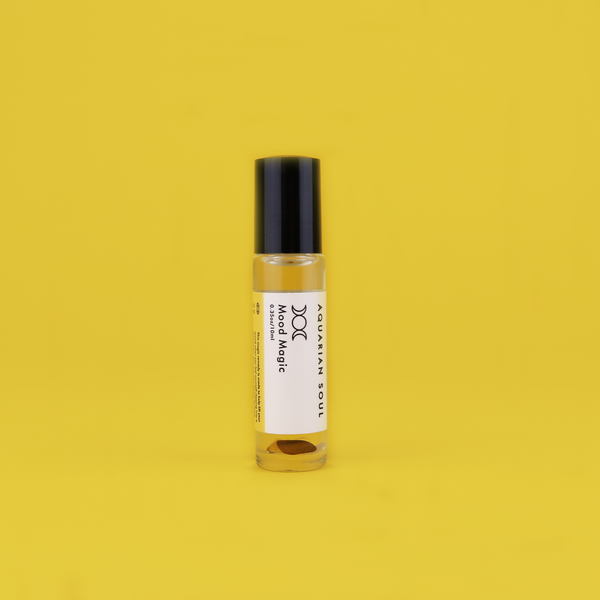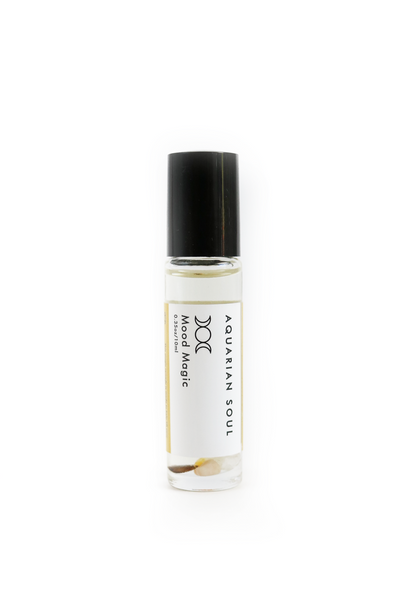 Mood Magic
Mood Magic is specially formulated with crystals and essential oils the help alleviate depressive moods. This acts as a tool to help you bring yourself out of a dark place. Whether you suffer from depression, are going through a difficult time or just need the occasional pick me up scent to carry with you, Mood Magic is here for you. We created this blend for anyone who has difficulty dealing stressful situations or overcoming trauma that can lead to depressive mood. You can roll this on to wrists, pulse points or inhale this directly from the container.
Directions
Roll on to your wrists to smell throughout the day or inhale directly from the bottle for faster relief. 
The Crystals
Quartz
is the most powerful healing and energy amplifier on the planet. It absorbs, stores, releases and regulates energy and is useful for unblocking it. It works at a vibrational level attuned to the specific energy requirements of the person needing healing or undertaking spiritual work. Quartz is the master healer and can be used for any condition. It stimulates the immune system and brings the body back into balance.  
Citrine
this stone is representative of the sun and the solar plexus chakra. It energizes every level of life. It is warming, energizing and highly creative. It is a happy, joyous and sunny stone. It imparts joy and gives you a positive attitude. It enhances concentration and revitalizes the mind. It imparts invigoration and energy into the physical body and awakens the higher mind. It is one of the best stones for recharging, motivating and stimulating the mind and body. 
Carnelian
Has a warm, stimulating energy. It empowers you to be bold, and go for what you want in life. Red stones are often associated with the sun and its powerful energy. It is especially useful for strengthening your physical body but can also be useful for uplifting your mood like the rays of the sun. 
Tigers Eye  
Is an ancient stone used by the Egyptians. It has reflective shifts of light which help you see the light in darkness. It helps alleviate anxiety, depression or any low mood. It helps you see the positive when you feel like you are surrounded by negativity. Tigers eye helps you overcome fear, helps you step out of your comfort zone and grow and change to become your highest self. 
Ingredients (.35 oz bottle)
Prunis dulcis (sweet almond) oil*, Citrus bergamia (bergamot) essential oil*, Lavandula angustifolia (lavender) essential oil*, Citrus x paradisi (grapefruit) essential oil*, Clear quartz, tigers eye, carnelian, citrine (*organic) 
---