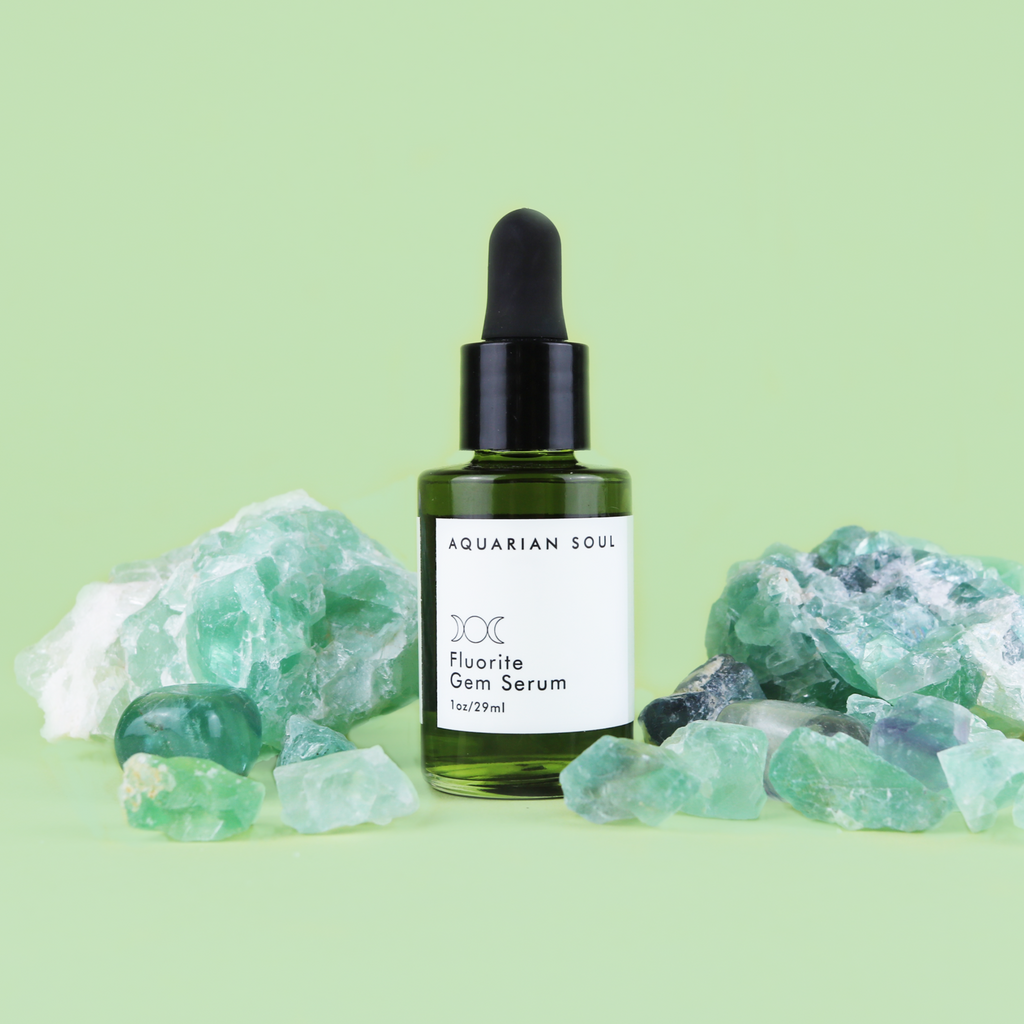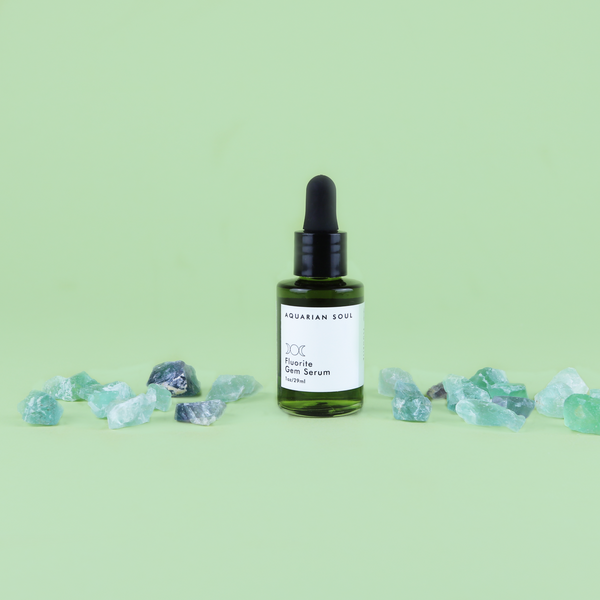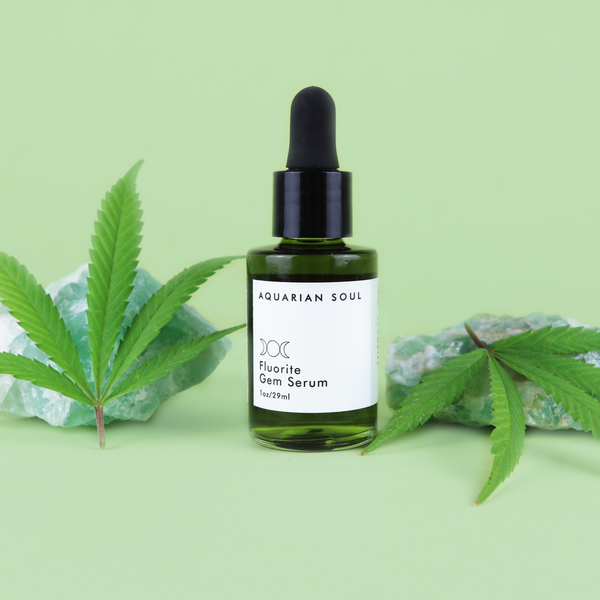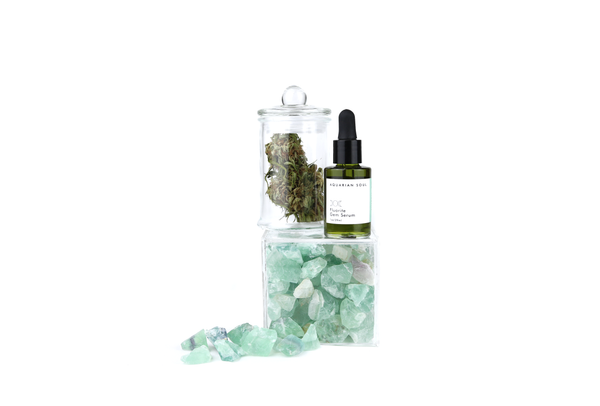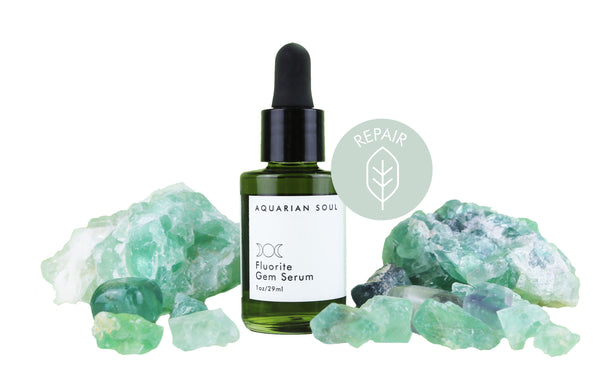 Fluorite Gem Serum
This serum is reparative for a variety of skin conditions. It works to improve the overall health and appearance of your skin. This serum contains many nourishing and nutritious oils for the skin that contain fatty acids and omega acids that hydrate your skin without clogging your pores.  Nutritive oils of hemp seed, grapeseed and black cumin give this oil its seaweed green hue. Jojoba oil is the closest thing to our own natural oils so it is easily absorbed into the skin so you dont feel greasy at all. This serum is great for any skin type but is especially formulated for those with sensitive skin, oily skin or those with concerns like eczema, psoriasis, or acne.
Directions
You can use a few drops all over after normal cleansing as a moisturizer or as spot treatment on dry skin. Start with 4-5 drops and increase if more is needed. Use the dropper to dispense the serum and cover entire face focusing on dry areas or areas where your particular skin conditions are a concern. Gently pat the serum into the face. Let sit over night or as an intense daytime treatment. 
The Crystals
Fluorite 
draws of negative energies and stress of all kinds. It cleanses, purifies, and dispels and reorganizes anything within the body that is not in perfect order. It has a stabilizing effect assisting with balance and coordination. On a spiritual level, it also balances, grounding you to the physical plane while expanding your intuition. 
The Key Ingredients
Hemp Seed Oil 
Hemp seed's beautiful, deep green colored oil is what gives this serum its forest green hue. It helps balance skin so whether you have oily, or dry skin, this oil penetrates easily into skin and regulating your skin's natural oil production. Ultra rich in omega acids, hemp oil helps reduce inflammation and irritation. These acids help form a barrier over your skin seal in the moisture without clogging pores. This oil helps keep your skin moist all day long. Hemp oil is an emollient and will make your skin soft to the touch. Hemp oil is great for acne prone skin, eczema, psoriasis, and sensitive skin. (*Contains only trace amounts of CBD, and no THC)
Black Cumin Seed Oil 
Has been used around the world for centuries and was even used by Cleopatra as part of her everyday skincare routine. It comes from the cold pressed seeds of the fennel flower. Black cumin encourages the reparation and regeneration of the skin for a healthier, smoother and more even skin tone. It works well for acne prone skin as it is an anti-inflammatory and helps clear blemishes and reduce redness. It is deeply nourishing and hydrating for dry skin. 
Blue Tansy
Contains both anti-inflammatory and antioxidant properties. This is a standout ingredient for many skincare because it tackles a variety of issues like redness, clogged pores and acne. Like chamomile, this species of tansy is in the aster family so it has many of the same soothing, and healing qualities that chamomile does. It is known as "Moroccan chamomile" and is a bright yellow flower but during the distillation process, the oil comes out a bright blue color. Blue tansy is wonderfully calming and soothing to the skin. 
Calendula
Is well known as one of the top herbs for soothing skin conditions. It is both reparative and calming for many skin conditions. It is an anti-fungal, anti-microbial and anti-inflammatory. Whatever skin issue ails you, you can benefit from calendula. Calendula is great for rashes, cuts, scrapes, sunburn, bruises, acne and eczema. Calendula helps address any skin conditions so that your skin is renewed, bringing back that healthy, vibrant glow. 
Frankincense
Has been used as a ceremonial resin since ancient times. Frankincense is a sacred component of this oil that helps balance the skin's oil production, improves elasticity and tightens and tones skin. Frankincense also helps brighten skin, and works well for acne prone skin. 
Ingredients (1 oz bottle)
Helianthus annuus (sunflower) oil*, Simmondsia chinensis (jojoba) oil*, Camellia oleifera (camellia seed) oil*, Vitis vinifera (grapeseed) oil*, Cannabis sativa (hemp seed) oil*, Nigella sativa (black cumin seed) oil*, Matricaria recutita (chamomile) extract*, Calendula officinalis (marigold) flower extract*, Lavandula angustifolia (lavender) extract*, Boswellia sacra (frankincense) extract, Tanacetum annuum (blue tansy) oil*, Vitamin E (mixed tocopherols), Fluorite (*organic)