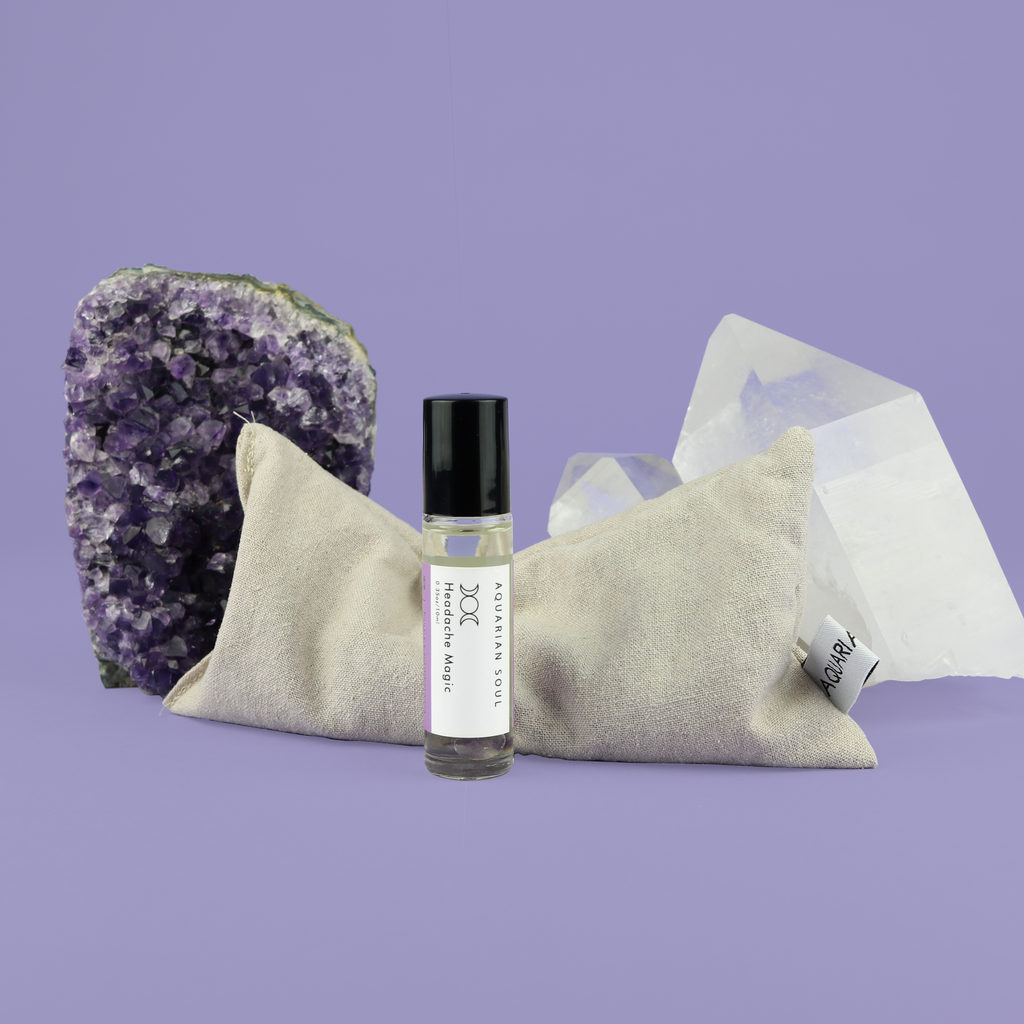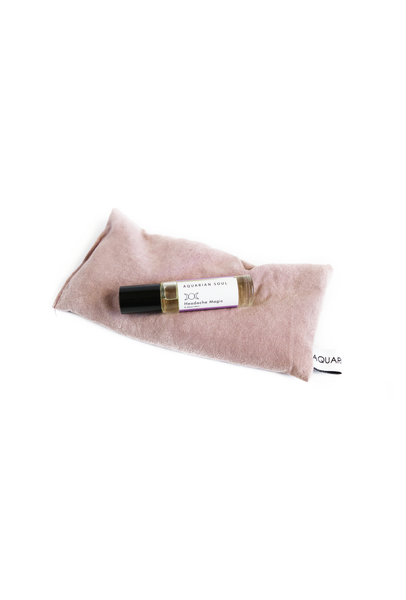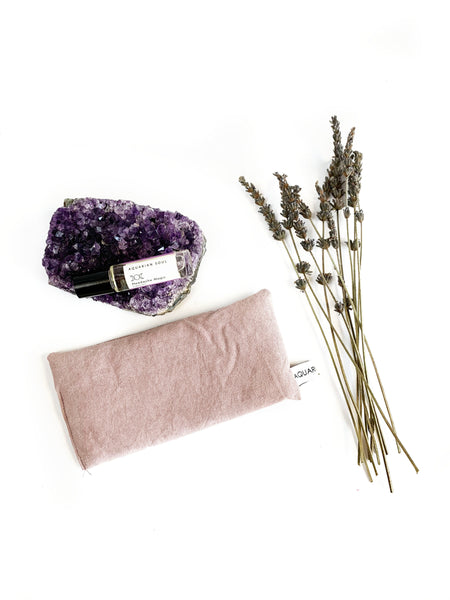 Headache Gift Set
Do you or anyone you know suffer from migraines or frequent headaches? This is the perfect set for you! It contains our best selling Headache Magic and our NEW Headache Pillow.
The pillow is hand dyed from elderberries on raw silk. Raw silk has a beautiful, natural texture that is so unique. Elderberries create a delicate mauve color with variations in the fabric. It is filled with lavender and quartz crystals just like our Headache Magic roll on. The quartz in this pillow helps alleviate your headache as quartz is an all natural healer that is good for any condition.
When I first began Aquarian Soul, Headache Magic was something I made for myself, and I would use it, then wrap my head with quartz crystals. It was very important for me to create something that is easier to use that is full of quartz for you to help relieve pain and create a relaxing environment whether you are at home, work or on vacation.  
Directions
Roll on Headache Magic to your temples, wrists and inhale from the bottle. Lay down, and cover your eyes with the pillow. Inhale deeply to get the gentle sent of lavender. 
The Crystals
Quartz
Is the most powerful healing and energy amplifier on the planet. It absorbs, stores, releases and regulates energy and is useful for unblocking it. It works at a vibrational level attuned to the specific energy requirements of the person needing healing or undertaking spiritual work. Quartz is the master healer and can be used for any condition. It stimulates the immune system and brings the body back into balance.  
The Key Ingredient
Lavender
Highly aromatic flower known for its extremely calming properties. Very soothing for the skin as well as the mind. Great for relieving anxiety, nervous energy or helping you to fall asleep. 
Ingredients (.35 oz bottle) 
Prunus dulcis (almond oil)*, Menta piperita (peppermint) essential oil*, Lavandula angustifolia (lavender) essential oil*, Quartz, Amethyst (*organic) 
HEADACHE PILLOW Ingredients
Lavandula angustifolia (lavender) flowers, Quartz Crystals, Organic Buckwheat